The emergency declaration was lifted all over Japan, and social activities are beginning to resume.
I was annoying the noise came in the back alley about 30 m away, it seemed the asphalt cutter that the pavement was being peeled off.
I moved to the window and measured it using the high frequency noise detection app, "
Mosquitone Detector
".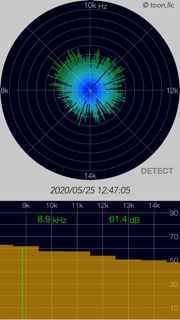 In detection mode, the maximum noise level was 61.4 dB at 8-16 kHz, which was not so big level.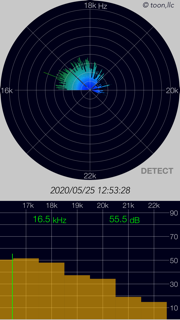 The noise level was even lower at 16-23kHz. This was because the amount of attenuation due to distance was more larger in the high frequency range.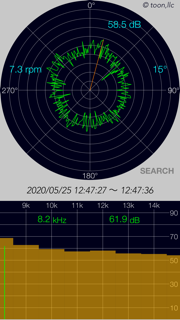 In search mode, it was simply showing the direction of the window.
The construction work seemed to be completed in 20-30 minutes. The noise was annoying sound, so I was relieved to stop it in a short time.