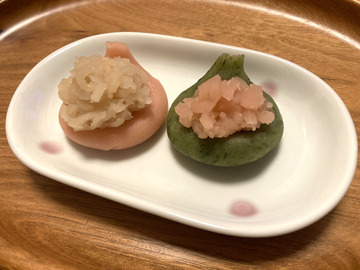 Today, March 3 is an ancient Japanese festival, Hinamaturi festival. 
I ate a special Kyoto wagashi for this festival called Hichigiri!
It is a simple and mysterious shaped wagashi that has been around for over 1,200 years since the Heian period.
It is made by famous wagashi confectionery, "Oimatsu" in Nishijin, the bottom rice cake is Konashi (the green one is filled with tansy), and the top is Kinton.
The sweetness was a little subdued, and the fragrance of the tansy was so refreshing that it made me feel that spring was near. The cold winter in Kyoto seems to be finally over.
.t
【new article of diary】