"Mosquitone Detector"has been updated to version 4.0 today!
"Mosquitone Detector" is a sound measurement app that detects high-frequency noises and ultrasonic sounds hard to hear for human ears.
It may have been exposed to artificial high-frequency noise while you do not notice. This app can detect and visualize such high-frequency noises.
The latest version features a new UI design and improved stability. In addition, a measurement screen rotation function has been added.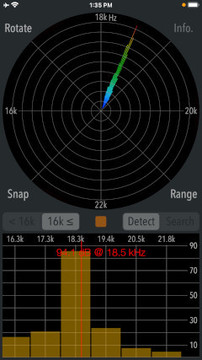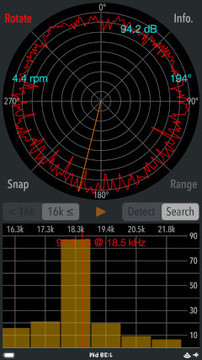 # Detect mode : It can check if there are high frequency and ultrasonic sounds that you can not hear.
・Frequency spectrum (pie chart)
The pie chart displays a detailed frequency spectrum and is displayed in color gradation according to the intensity of the noise level for each frequency. Normal levels are blue to green, yellow for stronger vigilance levels, and red for stronger danger levels, as described below.
- Normal level (less than 75dB) : Blue / Green
- Warning level (75dB or more, less than 85dB) : Yellow
- Hazardous level (85dB or more) : Red
・Frequency band sound level (bar graph)
The bar graph is the frequency band sound level, and displays the noise status in 1kHz unit bands.
It detects the strongest high-frequency components and displays the peak frequency bar and measured values (frequency and level) as reference information. This peak frequency is constantly updated.
* Measurement case with high-frequency band above 16 kHz; high-frequency noise found around 21.3 kHz! As noise level is not so loud, the display range is adjusted and enlarged.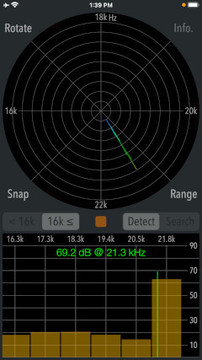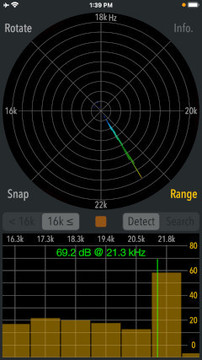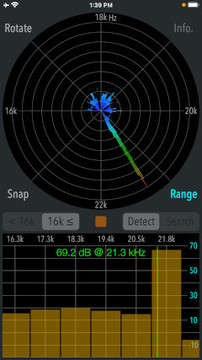 * Measurement case with high-frequency band below 16 kHz; high-frequency noise with large gain level was found around 15.1 kHz!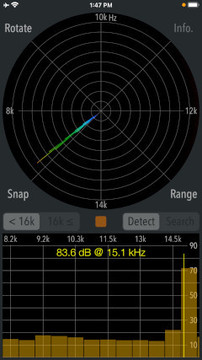 # Search mode : It can find the direction of high-frequency sound source.
Tap "Start" button, hold the iPhone device firmly in your hand, and make one slow clockwise (rightward) rotation (360 degrees horizontally) to search for the direction of the high-frequency sound source. The red bar on the pie chart and the angle display show the direction of the sound source.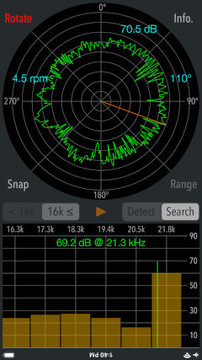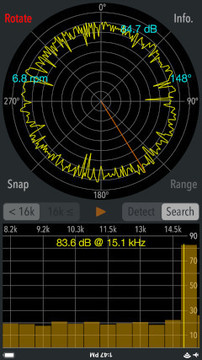 class="note">
For more information on "Mosquitone Detector" app, please visit the iOS product page on the App Store
TM
.