I have prepared a custom speaker stand specifically matched to the MarkAudio OM-MF4-MICA speakers!
This speaker stand has a height of 462mm. When the main cabinet is placed on it, the front height is 662mm (562mm to the center of the unit).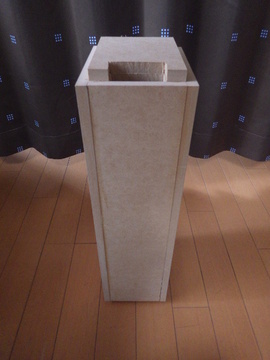 There is a hole on the top surface. You can also see a hole on the lower back side.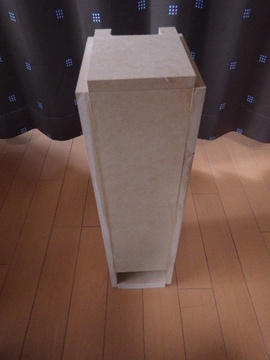 Now let's place the main unit with the unit attached. It fits perfectly.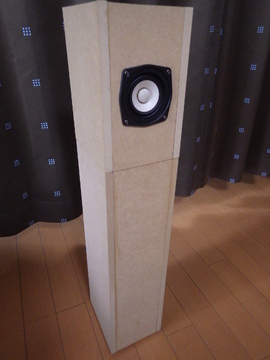 Actually, this speaker stand has a horn structure.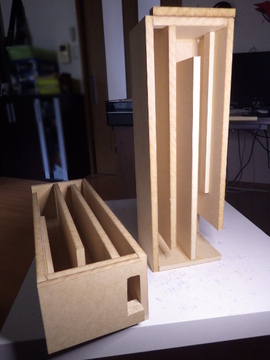 Even though it is a horn structure, the sound path is not that long.
The lower cabinet alone is about 1400 mm long. Thus, it has characteristics intermediate between CW horns, resonance tubes and acoustic labyrinths.
When combined with the upper cabinet, the structure is as shown in the following picture, and the sound path together with the duct in the upper cabinet is 1450 mm long in total.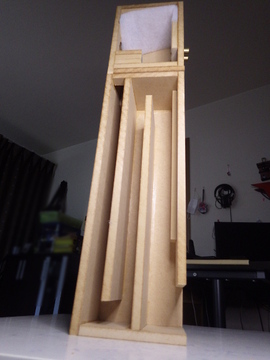 If think of a resonance duct as [speed of sound / length of sound path], I get
340 m/s ÷ 1.45 m = 234.5 Hz.
For your reference, here is a photo of a board-cutter.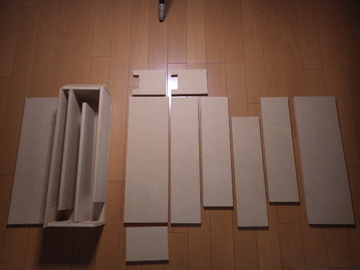 This also only needs to be laminated to the side panels in the order of the sound path, so the production time is about 3 hours. It is important to note that the spacing of the boards dividing the interior must be matched.
In the next issue, I would like to introduce the amazing features of this SP system along with the measurement results.
.s