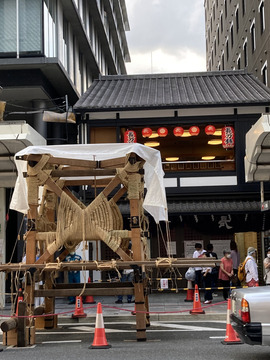 Gion Matsuri is one of the three most celebrated festivals in Kyoto, which originated in people's attempt to halt a series of raging plagues in the 9th century.
Today, Gion Matsuri began with the building of the Hoko (festival floats)!
It was raining from noon, but it stopped raining in the evening, so I went to see how it was going.
The base parts of the big floats were being built in Naginata-hoko, Kikusui-hoko, Kanko-hoko, Tsuki-hoko and Niwatori-hoko. It will be completed in about two days.
The Niwatori-hoko was being worked on, so I observed for a while. They were working on fixing the parts using only ropes, without using nails.
# Being assembled in Niwatori-hoko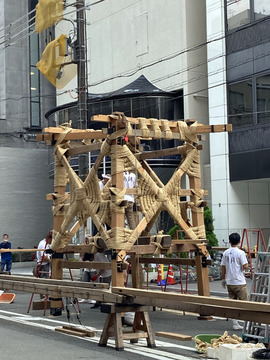 # Winding the rope around the main pole.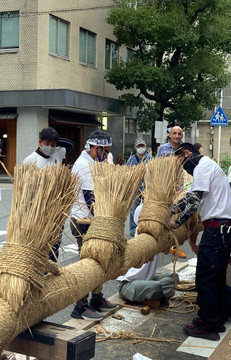 This year, for the first time in three years, the parade of Yamahoko-junko is scheduled to resume on July 17. However, I am quite concerned because the Coronavirus omicron BA.5 infection is beginning to spread.
.t
【new article of diary】