"Vibroscope Lite" has been updated to ver 5.0 today!
"Vibroscope Lite" is a vibration measuring app by using iPhone's acceleration sensor.
"Vibroscope Lite" is a free app that is simplified the measurement function of "Vibroscope".
This app can be intuitively detected an acceleration amount, that displays the two-axial coordinates in the horizontal direction and the time-axis waveform in the vertical direction.
It can measure by determining the horizontal or vertical direction to suit the attitude of the iPhone automatically, so as to be available on the floor and desk or handheld.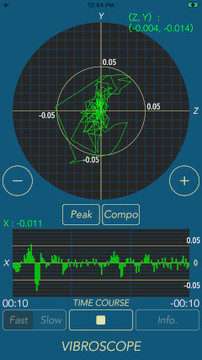 The peak value of vibration acceleration can also be displayed in the "GAL" unit used in seismographs.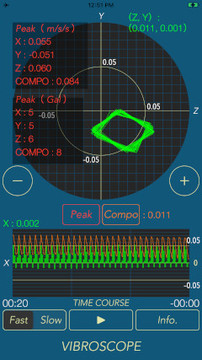 Please to click the following link to view more information of this app on App Store
TM
.