"Sound Level Analyzer Lite" has been updated to ver 6.0 today.
"Sound Level Analyzer Lite" is a sound level meter app for iPhone.
It is a free app that has simplified the function of
"Sound Level Analyzer
/
PRO"
.
Simply tap the Start button to measure the sound level. The measured sound level will be displayed in dB.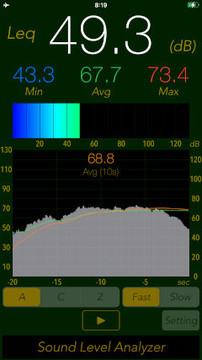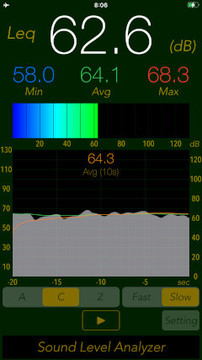 #Examples of general environmental noise and noise level:
130dB : Engine sound of Airplane
110dB : Horn of Car
100dB : Noise of passing train
90dB : In loud factory
80dB : In the train, Vacuum cleaner
70dB : Noisy office, Noisy street
60dB : Quiet Car, Normal conversation
50dB : Quiet office
40dB : In the library, Quiet residential area
30dB : Outskirts of midnight, Whisper
20dB : Sounds of rubbing leaves
*Note: The standard noise measurement range is 30 to 130 dBA, and the measured value (Leq) is about 30 dBA in a quiet room. Noise levels are never measured at 0dBA even in very quiet environments.
If you are interested in this app, please click the following link to display on the product information of App StoreTM.

Addendum (December 24, 2021)
Updated to version 6.0.1. Improved stability and expanded iOS support to work on iOS14.7 in addition to iOS15.