The long rains during the summer vacation are finally over. I was hoping that the weather would become a little more like autumn, but the heat of summer has returned once again.
I got the ONKYO "OM-OF101" speaker unit, so I designed the box image, did a rough calculation of the capacity and ducts, and managed to make a cutting diagram of the wood, but ... I didn't feel like cutting in this intense heat.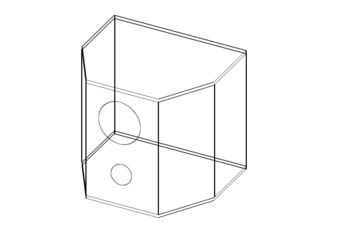 With the SDGs in mind, I tried to make effective use of leftover scrap wood as much as possible. I used leftover shelf boards for the bottom panel, OSB plywood left over from DIY for the baffle, and scrap MDF for the rest. The only thing was to get four pieces of MDF (300x300mm) for the backing board.
Just looking at the blueprints didn't help, so I made up my mind to start the cutting work!
Taking care not to disturb the neighbors with noise, I started work at 11:00. I finished all the cutting work in about two hours.
I took my time to cut the diagonal cut carefully, so I was able to get good accuracy. However, the last part of the work, drilling the square holes in the back plate (for adjusting the ducts and sound absorbing material) with a jigsaw, was a bit of a pain.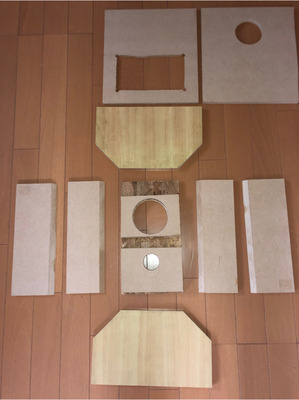 It looked squishy in the picture, and I felt like I've run out of energy here. I was sweaty at the limit of my strength. This was not a place to be seen, so I left it like this.
Finally, it is an image of the OM-OF101 mounted on the OSB plywood baffle.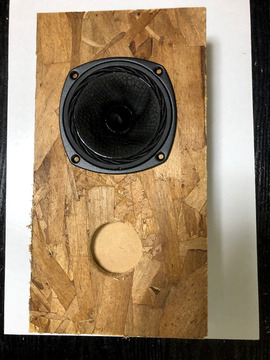 After a while, I'd like to do the assembly in a cooler place.
.s