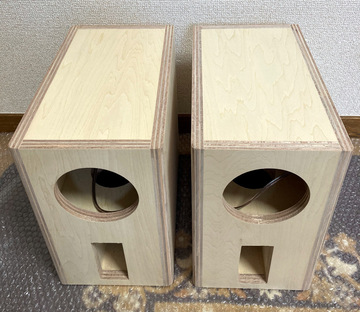 Since I couldn't leave the Milestone FV2 in its original white wood, I decided to paint it properly.
The plywood had a beautiful grain, so I tried a natural wax.
I thought I would try British BRIWAX because of its good reputation, but the smell was so strong that it will linger after painting. It has a very strong smell that seems to linger long after the paint is applied, and although Briwax has great color and gloss, it seems to be an old-fashioned paint with no consideration for health.
It is laced with volatile organic solvents such as toluene and xylene, which can cause sick building syndrome if used indoors. In my airtight house, this would be a big problem, so I gave up.
I did some research and found some natural plant paints that seemed to be safe, but there were various problems such as cost, painting methods, and maintenance issues.
In the end, I chose Turner's "Old Wood Wax" made in Japan, which is beeswax. This is a new natural wax released in 2017, the main ingredient is natural beeswax, and it has almost no smell, so I decided to choose this one. The organic solvent contained in this wax is isoparaffin, which is also used in cosmetics, so it is considered to be quite safe.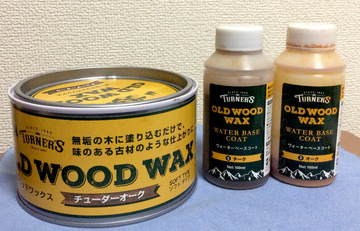 "Old Wood Wax" is a great product that can be used for coloring and surface coating at the same time. However, it seems that it is not as good as BRIWAX in terms of color penetration into the wood and color performance.
So I decided to use Turner's "Water Base Coat" as a base coat. This is a water-based paint, so it can be easily applied with a brush.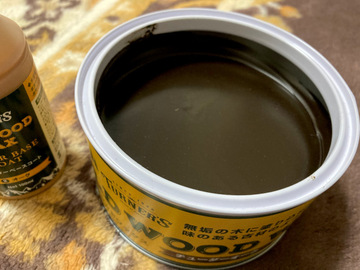 Old Wood Wax comes in a total of 11 colors. At first, I was going to choose Walnut, but it turned out to be quite dark, so I chose Tudor Oak, which is a slightly lighter shade of brown.
The base material "Water Base Coat" comes in a total of 15 colors. I heard that the coloration varies considerably, so I got two colors, Oak and Teak, just in case. Oak is a bright yellow, and Teak is a reddish brown.
I did a trial test using some scrap wood!

I used "Water Base Coat" as a base coat and then applied "Old Wood Wax" on top. I checked the color change of each coat by itself and by layering. "Old Wood Wax" was only applied in one coat and was not glazed, so it was just a color check.
*1 Oak base coat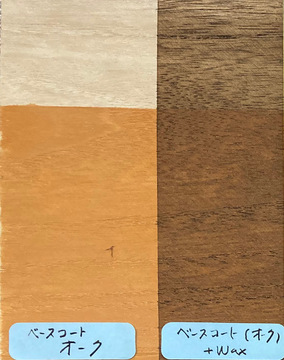 *2 Teak base coat
*3 Oak and Teak base coat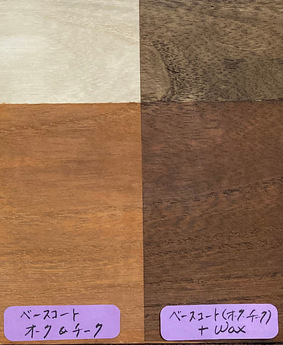 Old Wood Wax (Tudor Oak) alone was a light dark brown color that doesn't look very appealing.
A base coat of "Water Base Coat" and then "Old Wood Wax" gave the color more depth. The blend of the two colors was more like teak, but a bit lighter and more desirable. Based on these findings, I would like to start painting the actual speaker box.
.t