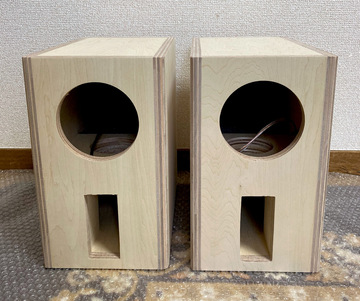 "MileStone FV2" - a high-speed double bass reflex speaker for ALTEC!
This is a double bass reflex loudspeaker for ALTEC 4-inch unit (405 series) designed by Mr. Nanakyu (Nanakyu Udon Soup Laboratory), and it was developed through dozens of prototypes.
More than 10 years ago, Mr. Nanakyu published the design data and measurement results of a loudspeaker dedicated for ALTEC 4inch unit on his web page. He recommended building loudspeakers from dead copies. I remember that many home-made SP builders' works were reported on the web.
However, before I knew it, Nanakyu's website was closed and now the valuable design data is completely lost.
I've been looking for the residue somewhere for a long time.
I found a builder who was selling his own box in an auction, and I decided to get it. He has made the same loudspeaker many times before, and I was very impressed with the precision of his work.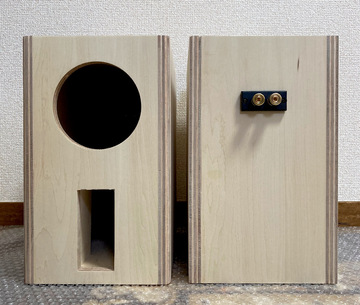 The first cabinet has 6 liters, the second cabinet has 4 liters, and the ducts seem to be tuned to 160 Hz and 100 Hz.
# Milestone FV2 box specifications
- Double bass reflex: 1st-cabinet 6L, 2nd-cabinet 4L
- External dimensions: Width 180 x Height 300 x Depth 300 (mm)
- Weight: 3.0kg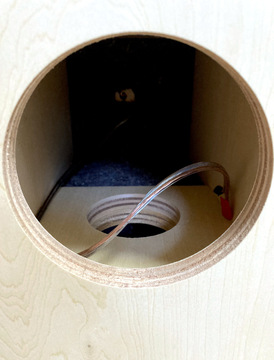 I have an unused
ALTEC Lansing Professional CF204-8A
units. I'm going to try to install this in the box.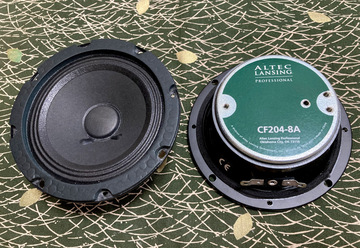 I think the CF204-8A has a more ALTEC-like West Coast sound than the CF404-8A. In other words, the CF204-8A is the unit that inherited the ALTEC 405A series sound. The CF404-8A is said to be the successor to the 405-8H, but it has a very different sound with a milder tendency.
I was going to install the CF204-8A in this white wooden box, but I decided to paint it beforehand. It's not going to be a DIY project, so I'd like to at least paint it properly.
.t