Apple's AppStore has been begun to display "App Privacy" information from December 15, 2020.
This will clearly indicate the handling of personal information in individual apps.
Now we are beginning to register our "App Privacy" information and display it in AppStore.
However, according to Apple's AppStore operating rules, this information can only be updated when an app is newly released or updated. As a result, there may be a delay in updating information for apps that have already been released.
Therefore, we would like to inform you in advance about our privacy policy for our released apps.
- In our paid apps, we do not collect any personal information.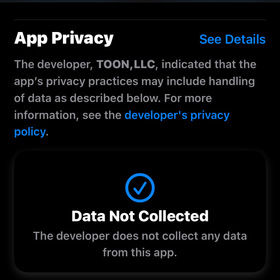 - In our free apps, some of your personal information may be collected by the ad-serving company (Google Inc.) for the purpose of displaying personalized ads. Our free apps are powered by ad revenue. We appreciate your understanding.
Our free apps use AdMob (Google Inc.) as the ad-serving tool, and AdMob may automatically collect user information.
For information on the collected data, the purpose of use, and provision to third parties, please refer to the following links to the privacy policies of ad-serving companies.
Google Ad Policy
Provider: Google Inc.
Privacy policy:
https://policies.google.com/privacy?hl=en
Thank you for your cooperation.
TOON, LLC