With the COVID-19 pandemic, we spend a lot of time at home.
At the same time, it seems that noise troubles are occurring frequently. In Tokyo, the number of cases of noise disputes in March and April increased by nearly 30% compared to last year.
There is annoying noise around my house now. The renovation work in the neighborhood has resumed, and the noise is becoming extremely loud.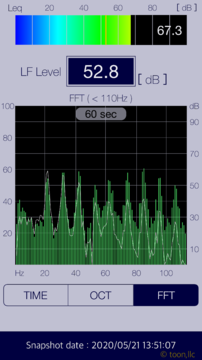 I felt noises as a fairly low frequency, so I investigated what kind of noise is present there by using "
Low Frequency Detector
" app.
As a result, many low frequency noises were clearly detected in the frequency range of 20Hz to 110Hz.
I will keep this noise data as evidence to prepare for future problems.
【new article of Environmental noise】