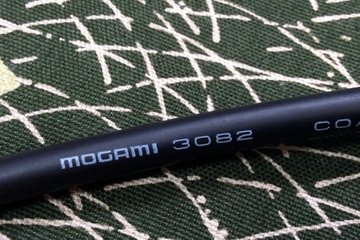 MOGAMI 3082 SuperFlexible Studio Speaker Cable
It is currently used as a main system speaker cable.
MOGAMI 3082 is a very flexible and easy-to-use speaker cable for professional audio, with an unusual coaxial structure as a speaker cable.
It has a very high resolution, well balanced frequency response and natural sound. Also it has excellent cost performance for professional use.
Having found this cable, I was able to stop using the expensive high-end cable. After all, I think it's better to gain the emphasis on tuning the audio system and the listening room.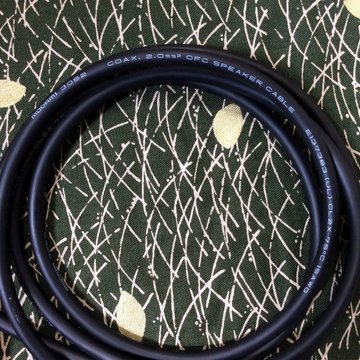 MOGAMI 3082 uses a coaxial structure to maximize the conductor cross-section within a limited outer diameter. This standard speaker cable is designed to meet XLR audio connector cable clamp.
Mogami's cable designer said that this cable structure is the best speaker cable.
In fact, while the cable diameter is 6.5mm and very easy to use, both the center conductor and the shield conductor realize a cross section of 2.03mm2 (equivalent to 14AWG).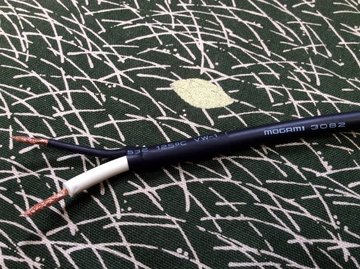 Because the MOGAMI 3082 has a coaxial structure, its wire processing takes a little more time.
It just peels off the jacket, bundles long ground wires, and insulates with heat-shrinkable tubes. Because the jacket is soft, it can be easily peeled off with a cutter knife.
#MOGAMI 3082 Spec.
 Conductor
  - Details:80/0.18 OFC (80×33AWG)
  - Size:2.03mm2 (Approx. #14AWG)
 Insulation
  - Ov. Dia.(mm):4.6Ø (0.181")
  - Material:PVC
  - Colors:White
 Served Shield
  - Details:80/0.18 OFC (80×33AWG)
  - Size:2.03mm2 (Approx. #14AWG)
 Jacket
  - Ov. Dia.(mm):6.5±0.5Ø (0.256±0.0197"Ø)
  - Material:Flexible PVC
  - Color:Black
#ELECTRICAL & MECHANICAL CHARACTERISTICS
 DC Resistance:0.009Ω/m(0.0027Ω/Ft) at 20°C
(Same value for both internal and outernal/shield conductor))
 Capacitance:253pF/m(77pF/Ft) at 1kHz, 20°C 
 Inductance:0.4μH/m(0.12μH/Ft)
 Electrostatic Noise:0.2mV Max.
 Electromagnetic Noise at 10kHz:0.2mV Max.
 Voltage Breakdown:Must withstand at DC 500V/15sec.
 nsulation Resistance:100000 MΩ × m Min. at DC 500V, 20°C
 Flex Life:15,000 cycles
 Tensile Strength: More than 980N
 Emigration:Non-emigrant to ABS resin
 Applicable Temperature:-20°C 〜+70°C(-4°F 〜 +158°F)
 Standard:UL13 CL2 75°C