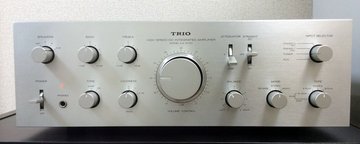 I have taken out the vintage amp, TRIO "KA-8100" integrated amplifier that had been sleeping for a long time in the storeroom. TRIO "KA-8100" was internationally exported from Japan as the product name of KENWOOD "KA-601".
Last year I restored SANSUI "AU-5500" and I got confidence a little, so I will try it with this amp.
TRIO "KA-8100" is a product released in 1978.
It was called high-speed DC integrated amplifier, it was a product at the time when importance was attached to physical characteristics such as high frequency response, wide band frequency characteristics. There were other KA-9900, KA-8700, KA-8300 in the product series, and this amp was a low end model.

It is undamaged and beautiful on the front panel. In addition, the rear panel is clean and rust is not floating. However, one speaker terminal of SP-A channel had been damaged. The power supply cable was also replaced, it was shortened to about 50 cm.
For the time being, when I tried to energize this amp there was no smoke, and the protection circuit was canceled, and the amplifired sound was safely.
However, since the operation is unstable, the sound of one channel is distorted. If I was electrified for a while, I got stereo sound normaly. Although it seems not to be fatal, there seems to be contact failure somewhere.
As a tendency of sound, it is quite different from the thick sound of Sansui "AU-5500", it is a refreshing sound with high frequency extended.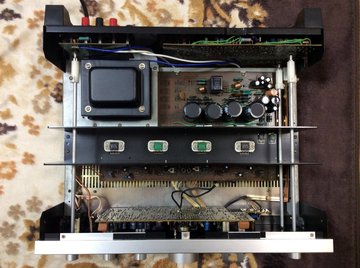 I removed the top cover and checked the interior top surface, but it is hardly dusty or dirty as it was contained in the original box.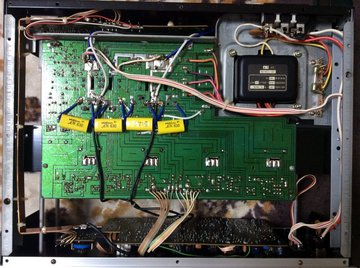 It seems that "KA-8100" was used for about 3 years, but it was stored for the following 38 years.
Furthermore, I removed the bottom cover, I was surprised that there was some electrical remodeling. Film capacitors had paralleled to the block capacitor of the main power supply, and the output signal wiring had shortened out minimum.
Not remembered why I did this, but probably I could not be satisfied with the original sound.
Once restored to its original state, I would try to repair.
Also, I checked DC leakage of output signal, but both channels were excellent, less than 0.1 mV. "KA-8100" is certainly a DC amplifier.
Anyway, I think that it will take quite a while to repair "KA-8100" amp.