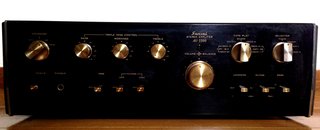 I was asked to repair the vintage amp from my friend!
Sansui "AU-5500".
It is an integrated amplifier released in 1975.
It seems that it has been used for more than 20 years as PA equipment, and it works by a considerable cigarette smoking condition. Switches and knobs that should be made of silver color was completely discolored into gold.
As a symptom of this trouble, the output protection circuit worked and no sound come out. In this state, I kept it because I thought that I could repair it.
To be honest, I am the first time to repair this very old audio product, so I am wondering what I am doing.
For the time being, I will examine the internal electric condition and the cause and countermeasures.