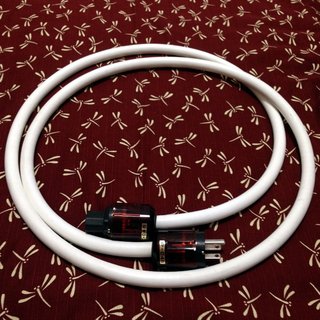 It is a power cable using Oyaide's "TUNAMI NIGO" cable, power plug "P-046" and IEC connector "C-046".
Previously I used "TUNAMI NIGO" as a speaker cable, but it was too thick to use around the speaker system, so I decided to make it as a power cable.
As a speaker cable, the amount of information was large and the thickness of the low range was outstanding, but it was not my favorite sound. In general, it has been known to change the sound quality of the audio system by a power cable, but I was interested in how the change will happen by this cable.
"TUNAMI NIGO" was originally developed as a speaker/power cable. Furukawa Electric's audio wire rod PCOCC-A has been discontinued, so it is not currently sold. This cable was 5.5 sq super-thick (1.4 cm thick), cutting work was also difficult with general tools.
Currently, it is manufactured as "TUNAMINI NIGO V2" using a special copper wire with low purity of 102 SSC, and the appearance is the same, but the sound quality seems to be completely different thing.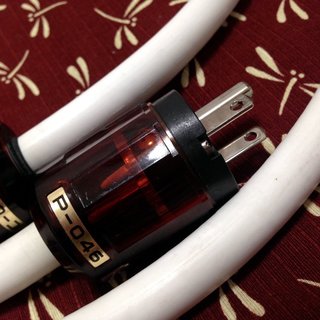 In accordance with the thickness and hardness of the cable, I choosed the power plugs, Oyaide's "P-046" and "C-046". They are Oyaide's original products and a transparent red cover is very impressive. The electrode is made of phosphor bronze plated with 2 layers of 24K gold and palladium, the body has a heavy feeling, it is firmly made to correspond up to 5.5 sq.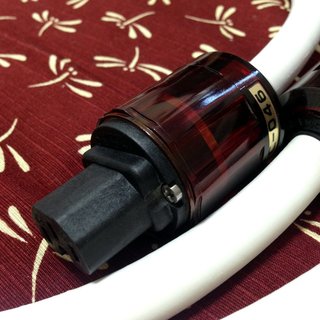 The new power cable has a total length of 2.2 m and a weight of 800 g, which makes it very presenceful.
I tried connecting it to my pure Class A power amplifier and full digital amplifier. Compared to the genuine cable, the bass resolution has been upgraded, and the sound base is solid. The amount of information is also improved, and the depth of the sound image will also come out very much. As compared with LUXMAN "JPA-15000" as using the power cable of HDD audio player, the new power supply cable was very excellent.
"TUNAMI NIGO" is not very suitable for speaker cable, so it seems better to use it as a power cable.
I think that the conductor cross section (5.5 SQ) which can transmit the withstand voltage 600 V and the maximum 30 ampere can also contribute greatly to stabilization of the power supply and low impedance.
TUNAMI NIGO specification
Conductor: PCOCC-A (*1)
Wire diameter: 5.5 Sq (69 lines / 0.32 mm)
Structure: 2-core cabtire structure
Insulator (inside): Polymer polyolefin
Insulator (external): Polymer polyolefin mixed with electromagnetic wave absorber
Exterior: polyurethane
Shield: 1 layer - electromagnetic wave absorber, 2 layers - semiconductor (carbon) layer, 3 layers - copper foil tape
Outer diameter: 14.0 mm
Rating: 600V / 30A PSE certified product
P-046, C-046 Specification
Body: PBT + GF 30%
Cover; Polycarbonate
Blade: phosphor bronze
Plating: Two layers of thick-walled 24K gold plating (1.5μm) + palladium plating (0.3μm)
Mounting method: Screw fixing type
Applicable cable diameter: ~ 17 mm
Adaptive gauge: ~ AWG 10 (5.5 sq)
Rated: 125V ・ 15A PSE certified product
Remarks: All parts are completely nonmagnetic
(*1) PCOCC
PCOCC (Pure Cupper Ohno Continuous Casting Process) was developed by Furukawa Electric Industry Co., Ltd. in 1986 as a high purity copper wire having the characteristic of unidirectional solidification structure.
It is characterized by a manufacturing method that unifies the crystal structure of copper and it has been adopted as a conductor of audio cable for many years because the OFC conductor has extremely few crystal grain boundaries. However, since PCOCC is a very hard wire material, PCOCC-A is mede by an annealing treatment which gives flexibility. By the depression of the domestic market after the Tohoku earthquake, the PCOCC material has finished manufacturing and selling at the end of December 2013 unfortunately.