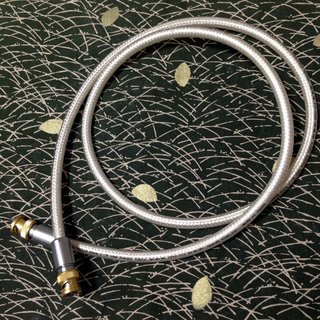 I made a new BNC digital cable for my digital audio system.
By replacing HDD-2TB of HDD audio player "NAC-HD1", I have more opportunities to play HDD audio recently. Since "NAC-HD1" has connected with a full digital amplifier via a digital connection, I decided to create a new digital audio cable.
The parts are those of pure silver material for digital cable originally made by Oyaide Electric in Akihabara.
I tried evaluating the new silver BNC digital cable. Compared to my conventional coaxial cable, it has a lot of information volume, very flat range and fine feeling of sound granulation.
The coaxial cable is "Oyaide FTVS-510", pure silver wire with purity of 5N. It is a 5C2V equivalent cable with a characteristic impedance of 75Ω, so it is quite thick. This cable has an arrow indicating the transmission direction.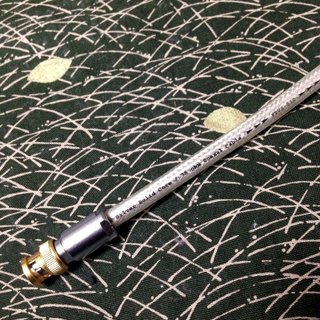 The BNC plug is "Oyaide SLSB", the contact pin is pure silver with purity of 4N, the outer material is 24K gold plated brass. The contact pins were machined from 4N pure silver rod with 4 mm thickness with NC machine. The BNC plug is designed to completely match the characteristic impedance 75 Ω and to eliminate signal disturbance due to reflection of the connector part.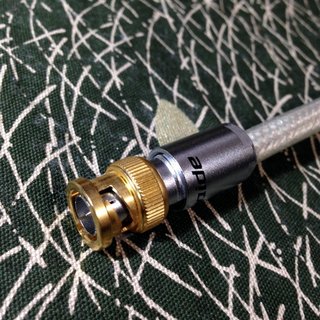 Because impedance matching is essential for digital transmission, it is best to connect with BNC for high frequency transmission. In the case of digital audio, it seems that many cases are connected by RCA cable, but the RCA connector is for analog audio connection, the majority of which are not protected by impedance. Naturally, return loss occurs due to impedance mismatch. On the other hand, the BNC standard is is properly specified in the voltage standing wave ratio (VSWR).
Coaxial cable FTVS-510 specification :
- Wire material : 1.05 mm 5 N (99.9995%) Sterling silver skin pass processing
- Structure : Coaxial structure
- Insulator : fluororesin skin layer & foamed polyethylene
- Shield : copper foil & silver plated copper (braid ratio: 95% or more)
- Exterior : UV cut PVC
- Characteristic impedance : 75 Ω
- Capacitance : 56.5 nF/Km
- Wavelength shortening ratio : 74.5%
- Attenuation amount : 23.1 dB/Km
- Conductor resistance : 21 Ω/Km
- Outside diameter : 8.0 mm
BNC plug - SLSB specification :
- Center pin material : 4N pure silver
- Outer Material : Brass 24K gold + Berichrome plating
- Internal insulator : PTFE
- Characteristic impedance : 75 Ω
- Adaptive wire diameter : 9.0 mm