I tried to replace the hard disk of the HDD Audio Player, SONY NAC-HD1.
NAC-HD1 was the digital product that became the beginning of network audio equipment, and was released in 2007. The following year, I purchased this product and am using it as a digital audio player.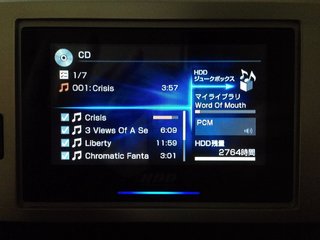 The original HDD is 250GB, it can be storage 380 hours with Linear PCM, but I already ripped 300 CDs and the remaining capacity was very low. Therefore, I replaced it to 2TB HDD, and it became possible to record up to 3092 hours with Linear PCM.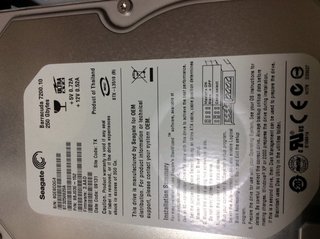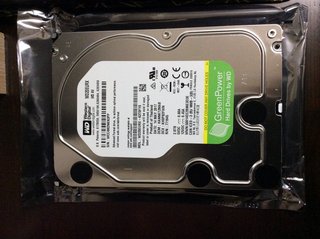 The original HDD was Seagate product (Seagate barracuda, 250GB, 7200rpm) of the old standard IDE interface. Since the new HDD-2TB (WD AV-GP, 2TB, 5400rpm) is a SATA interface and can not be directly connected, it is connected using a SATA-IDE conversion board.
NAC-HD1 is a Linux-based computer system and does not work with simple HDD replacement. So I cloned the HDD physical image in sector-by-sector at first and moved the final partition to the end of the disk area, then expanded the data partition.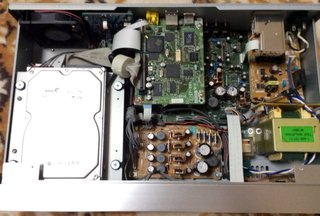 The board in the center of the photo is the CPU board, CPU is Renesas Technology SH7090 (300MHz) and the memory is 64MB. I think that the sound grade is considerably higher than the general PC audio which was built with a personal computer.
Moreover, the custom tuning which raises the data precision of the digital output has been applied by Sound Design, Inc. Linear PCM data can be externally digital output (S/PDIF) with very low jitter.
I am playing sounds by digital connection with the full digital amplifier "FoB SD05" with BNC coaxial cable. The reproduction sound is very fresh and has the feeling of being, so I am always surprised that the detailed information was contained as digital data in the CD so far.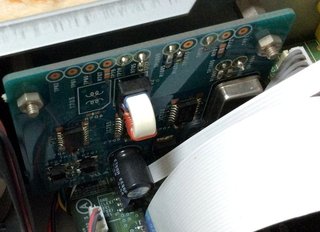 Although I carefully selected the ripping CD so far, so I can enjoy music by riping my favorite CD without any hesitation. I own more than 2000 CDs, so I can still enjoy a lot of music with great sound by the digital ripping of NAC-HD1 in future.