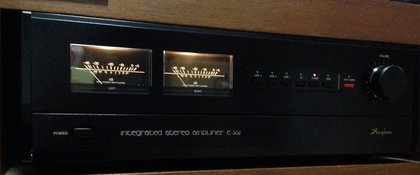 Accuphase's Integrated Stereo Amplifier E-302B.
Accuphase products are generally champagne gold color, but this is a very rare black model. It was released in glossy black finish like a mutation in 1984. It is the fifth generation product as Accuphase's Integrated Stereo Amplifier, and was sold together with E-302 of champagne gold color.
My amplifier has been 33 years old, but there is never a failure like a breakdown. I am still using in my sub audio system as an active machine.
Accuphase's integrated amplifier before this model was sticking to the control amplifier function, but this model seems to be tuned in the direction to increase the freshness of the sound by making the pre part as simple as possible. I think that the sound is not too tight such as so-called Accuphase tone.
Although this amplifier heats up considerably, it seems that troubles are hard to occur owing in order to the simple circuit configuration. I'd like to continue using it for a long time.
The spec of E-302B is as follows. The product catalog is still existed on Accuphase's website now.
Accuphase E-302 : http://www.accuphase.com/cat/e-302en.pdf