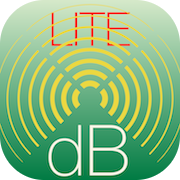 "Sound Level Analyzer Lite"
was updated to ver 3.0 today.
"Sound Level Analyzer Lite"
is a sound level meter app for iPhone. It is a free app that has simplified the function of
"Sound Level Analyzer PRO"
.
Available in variety of applications as the neighboring environmental noise measurement, audio system check, vehicle interior noise check, sound check of live events, and more.
In the latest version, the UI design has updated, and Time course graph function have been added as a new feature.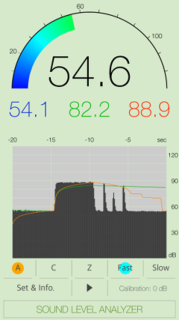 The WHO has proven direct links between noise and health risks; tinnitus, sleep disturbance, stress, cognitive impairment, heart diseases and annoyance in general. Please check your environmental noise for your wellness.
The followings are examples of the magnitude of the sound level in the measurement of environmental noise.
 130dB : Engine sound of Airplane
 110dB : Horn of Car
 100dB : Noise of passing train
 90dB : In loud factory 
 80dB : In the train, Vacuum cleaner
 70dB : Noisy office, Noisy street
 60dB : Quiet Car, Normal conversation
 50dB : Quiet office
 40dB : In the library, Quiet residential area
 30dB : Outskirts of midnight, Whisper
 20dB : Sounds of rubbing leaves
Please to click the following link to show "Sound Level Analyzer Lite" from App Store
TM
. It will be open our product page on App Store
TM
.