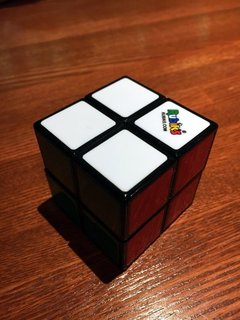 In the counter of Scotch Bar I often go, I found a familiar thing popular in the past.
When it looked closely, it was not "3×3", but a little unusual "2×2" "Rubik's Cube".
Bar Master said, "2×2" was quite difficult, as the color of each aspects was not decided unlike "3×3". On this Bar, it was only one person that it had completed to unify the color of all aspects.
I tried challenging for a while but abandoned it as impossible in drunken state, I passed it to my partner beside me. After a while, she has completed it with all aspects! I was very impressed once again that she had such a talent.
"Rubik's Cube" is a Hungarian architect and was invented in 1974 by Erno Rubik, a professor at the Budapest Institute of Technology. After that, it was commercialized in Hungary in 1977, and in Japan it was released in 1980 and a big boom happened. There seems to be many kinds of cubes now.
【new article of diary】