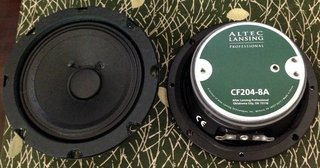 I got ALTEC CF204-8A, 4 inch full range unit.
ALTEC was acquired by "Electro Voice, Inc" in the 1980s and was temporarily ceased. At the end of the 20th century, it became independent as "Altec Lansing Technologies, Inc", and the professional speaker for the "ALTEC LANCING PROFESSIONAL" brand revived in 2002. Unfortunately, as it was acquired by " Plantronics, Inc" in 2005, the ALTEC speaker unit was also manufactured for only a short period of time. There was only a market stock until around 2007. Now it is in high price in the second hand market.
I could not find better CF204-8A products, but recently I was able to bid successfully for an unused product at an auction. Moreover, it was miraculous because it was the same level as the old selling price.
CF204-8A was designed as a sealing speaker, and it is adopted in many airports and public facilities in the United States. This unit is a bright and tight sound like ALTEC, and the vocal band is substantial.
The sound of this unit is exactly ALTEC sound, so-called West Coast sound.
Since it is 95 dB with very high efficiency as 4 inches, it does not require an excessive output to the power amplifier.
Now it has attached the surplus box for the Burn-in, but I would like to make a special SP box in the near future.
Specification :
 Type : ALTEC Lansing Professional CF204-8A , 4 inch full-range loudspeaker
 Frequency Response : 150Hz - 14000Hz +-5dB
 Low Frequency Limits : 85 Hz (-10dB)
 Power Handling : 10W EIA, 40W peak
 Impedance : 8Ω - normal, 7.8Ω - minimum
 Sensitivity : 95 dB (SPL - 1W, 1m)
 Maximum Output : 111 dB(Peak SPL)
 Magnet Weight : 0.63 lb (0.29 kg)
 Net Weight:1 lbs 10 oz (0.7 kg)