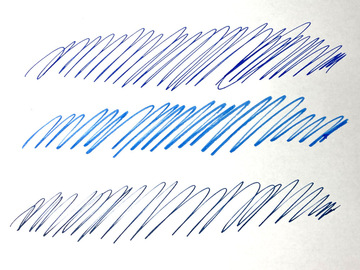 I never intended to get into anything other than audio, but...
In this age of COVID-19 disasters, I thought it might be good to immerse myself in another world for a little while. And now, I'm reexamining the world around me.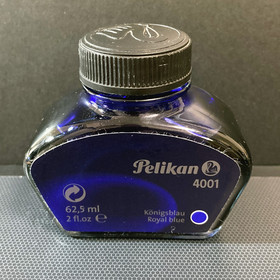 Now I'm becoming obsessed with fountain pen inks.
This is a "Pelikan Royal Blue" that I owned a few years ago.
It is a standard dye ink made in Germany, a very nice blue, and I was inspired by this color. (The top line in the photo above is this ink, a vivid blue with a purple tinge, but the exposure doesn't do justice to the color in this photo.)
Fountain pen inks have evolved to such an amazing degree that I am stunned by the state of modern inks.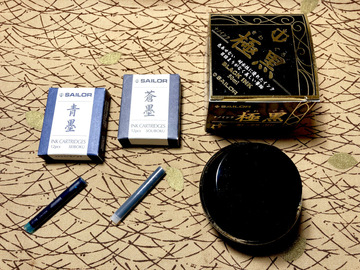 Sailor's pigment inks, pure black "Kiwaguro", blue black "Seiboku" and "Souboku", have been my personal standard for the past seven years.
I was convinced that the current pigmented inks were good enough because they solved the critical problems of water resistance and ageing of fountain pen inks. The reason why I can use fountain pens normally for business purposes is because of the commercialization of pigment inks with ultra-fine particle nano technology.
So I never thought of going back to the origin of ink, dye ink.
But now, what kind of dye ink should I choose?
I tried to choose a few variations of blue ink based on the ink images posted on the Internet.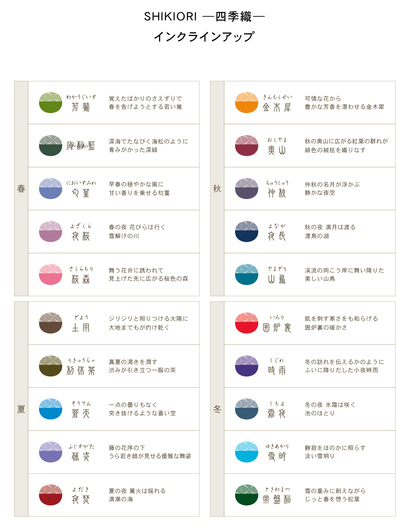 There, I found Sailor's ink series "SHIKIORI" . It had as many as 20 color variations, and the exquisite naming was very enjoyable.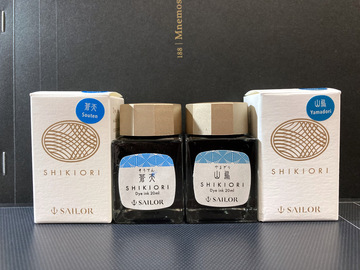 In the end, I chose the blue inks "Souten" and "Yamadori", which have slightly different color tastes.
Here is a comparison of the two inks. Written with Sailor "Fude DE Mannen" (nib angle: 40 degrees).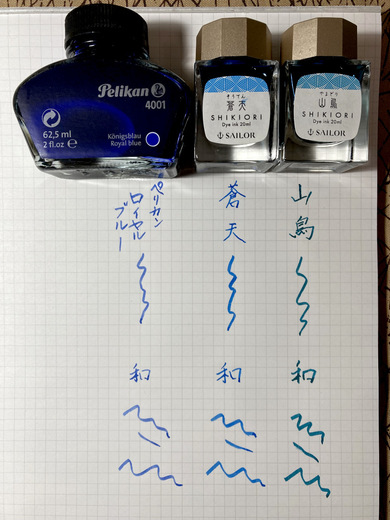 Pelikan Royal Blue is a graceful purple-ish blue, Souten is the color of a clear early summer sky, and Yamadori is a deep green forest rather than blue.
Once again, I fell in love with the beauty of Pelikan Royal Blue. And in the future, I think I will use "Soten" more often as a new blue ink.
I was convinced that the ink madness is gradually increasing. Once again, I realized the richness of human sensitivity.
I'm going to try to immerse myself in the world of blue pigment inks for a while.
.t
P.S. Hopefully, those in power should make every effort to bring about a peaceful world we can all feel a little happier. Never destroy it easily. No war!