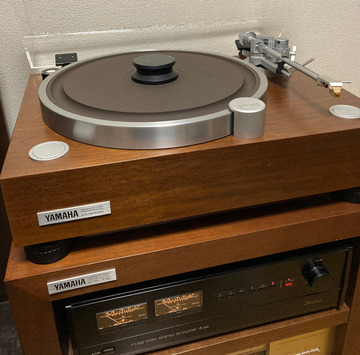 Yamaha Analog Record Player GT-2000L
.
This is a great piece of audio equipment in the golden age of audio that I continue to use with great care.
The weight of GT-2000L is quite heavy, about 28kg, and the genuine insulator was screaming under the weight of years of use.
The genuine insulators were made of rubber and spring composite structure, and they were strong enough to withstand more than 12kg of weight per insulator, even if they were replaced with 18kg gunmetal turntable "YGT-1".
Now, it's in such a mess!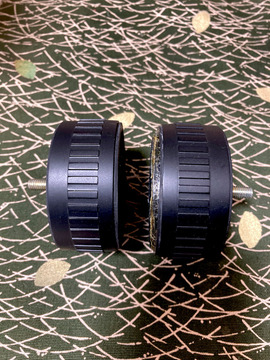 Two of the four insulators were damaged, especially one where the rubber adhesive had completely peeled off and the enclosed spring had popped out.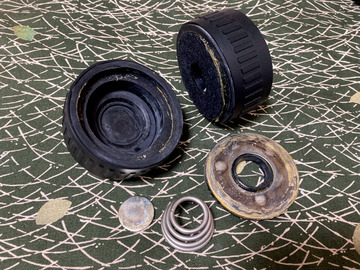 YAMAHA didn't have any spare parts in stock, which is not surprising since the product was almost 40 years old.
I've been looking for it on the Internet auctions, but I couldn't find any genuine insulators, so I had no choice but to use other insulators.
Last year, I found interesting parts among all the junk, such as audio cables and radios, in an item called "Audio Junk Set" on online auction.
I decided to bid on it at a very low price, and when I checked what I received...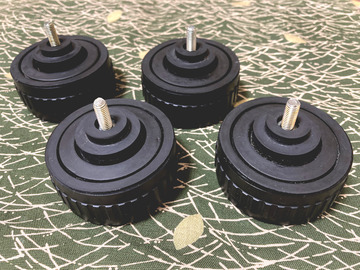 This was a set of four genuine insulators for GT-2000. This was truly a grab bag!
They were in very good condition with very little apparent deterioration, and had probably been installed in GT-2000 for a short period of time.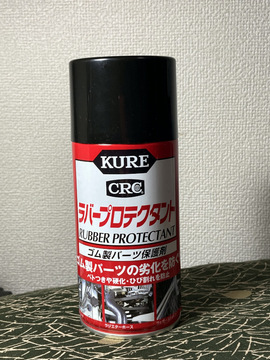 After disinfecting and cleaning with alcohol, it caused a blooming phenomenon of the rubber. So I applied a little bit of KURE rubber protectant, and it returned to its original black tint.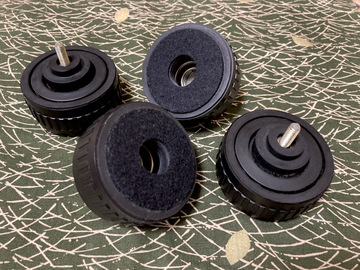 As a test, I tried to find out how much difference there was in the degree of shock absorption between the old insulator and the new insulator.
I put my iPhone SE2 on the turntable and used the vibration analysis app "Vibroscope" to measure the difference.
- Measurement result of vibration absorption at OLD insulator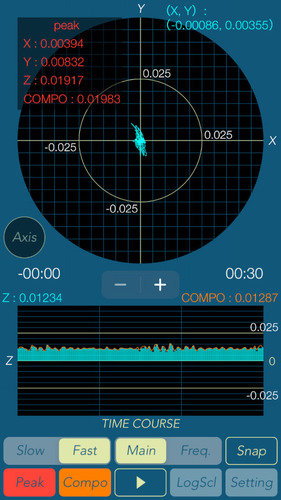 - Measurement result of vibration absorption at NEW insulator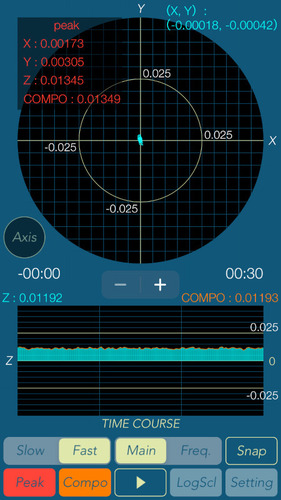 This measurement was made when the GT-2000L was placed on the YAMAHA GT-rack "GTR-1W" and the rack shelf was hit hard by hand intermittently. The results show that the new insulator dampens external vibrations better than the old one. I tried to apply the same force as much as possible, but it is difficult to apply exactly the same kind of vibration, so this was just for reference.
Now I can enjoy original sound of the GT-2000L for the first time in over a decade. I'm sure it will be fine for another 10 years or so.
.t