Today is usually the last day of summer vacation for children.
Some areas have extended the summer vacation for COVID-19, so it will be hard for parents and teachers to take care of them.
I've been working on assembling the speakers since last weekend.
It's a simple bass-reflex structure, so it's easy to assemble in order, but there are a lot of difficulties due to the lack of precision in cutting by amateur.
The first step is to attach the auxiliary reinforcement plate and duct plate to the baffle plate.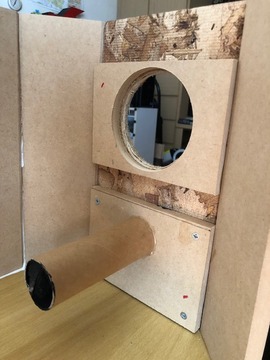 The duct board is screwed so that it can be adjusted later.
Glued the diagonal side panels and side panels on both sides of the baffle board.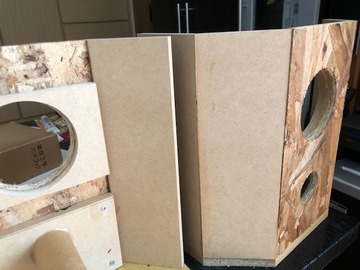 There is still a gap at the diagonal cut point. It may look like a straight cut, but it's probably slightly crooked. When the bond is dry, fill in the gaps with wood putty.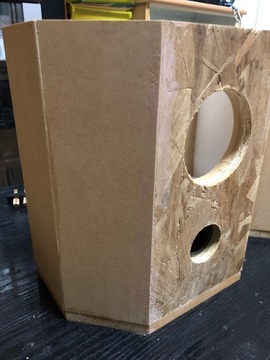 Install the back plate.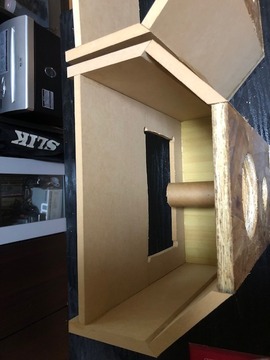 Lightly fill it with sound-absorbing material.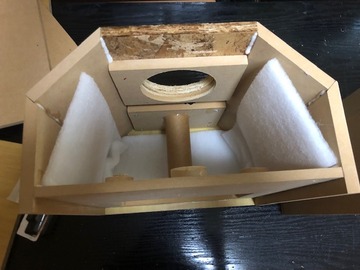 The back plate is made of the same size plate screwed together so that it can be adjusted later.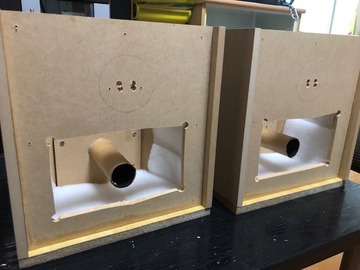 This is what it looks like when the back plate is attached.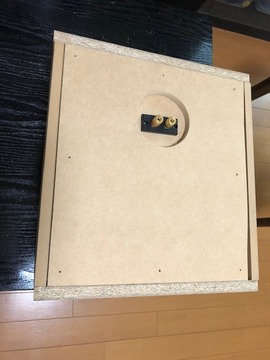 Glue the top plate.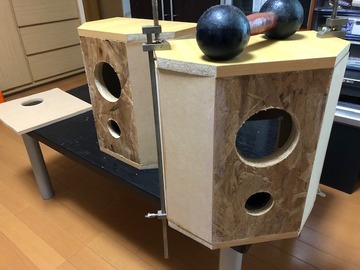 Due to poor cutting accuracy, the diagonal side panels and the top panel were out of alignment. If I get motivated later, I will try to adjust them by planing.
The box volume is about 10.5 liters, and the tuning frequency of the duct is calculated to be about 75Hz.
This is a little larger than the example and recommended box, and the duct frequency is lower, so I hope it will produce a relaxed bass sound.
After preparing the speaker terminals and the speaker unit, I found out that I didn't have any Faston 250 terminals in stock! Have to buy some.
As a result, this speaker craft will not be completed until after this weekend. So, I may try painting it with water-based varnish.
.s