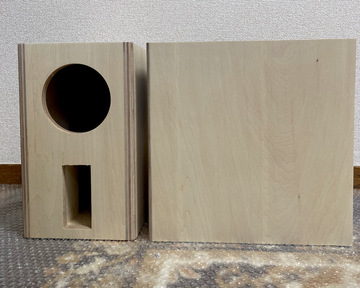 I started the actual painting of the "Milestone FV2" speaker box.
First, I scraped the surface of the box clean with #400 sandpaper.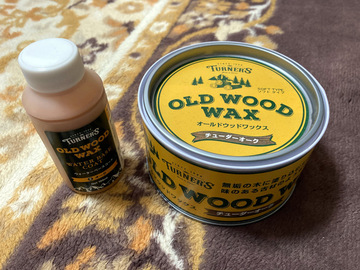 Brushed to paint the entire surface with Turner's "Water Base Coat (Oak)".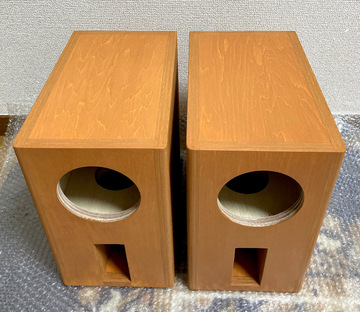 It turned out to be a much brighter orange than the pre-test.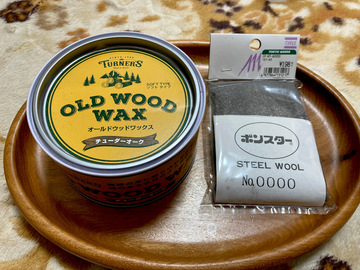 After letting it dry for about a day, Turner's "Old Wood Wax (Tudor Oak)" is applied to the entire box using super fine steel wool #0000.
Initially, I had planned to finish the painting before the rainy season, but the rainy season came in the fastest ever, so I had to work indoors.
If I had used Briwax I would not have been able to do it indoors because of the strong smell. "Old Wood Wax" is really odorless and helpful.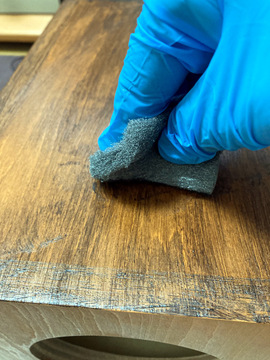 The "Old Wood Wax" is easy to spread, so I was able to apply it to the entire box in no time. After one application to the entire box, I wiped it evenly with a cloth before it dried and was done for the day.
The drying time for "Old Wood Wax" is 1 to 2 hours for contact drying and 1 week for curing drying. There are cases where other companies' beeswax does not dry for days, so this wax seems to be quite easy to use.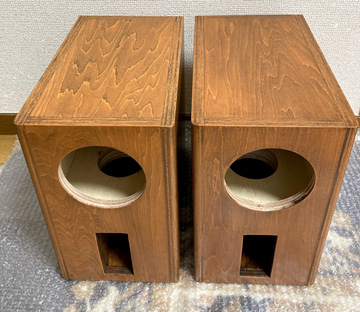 It turned out to be a bright color, just like the preliminary test. Since the laminated plywood is still noticeable, it would be better to use a darker color.
So, a day later, I applied another coat of "Old Wood Wax", but the color was not as dark. It seems that once the wax is applied, it is difficult to penetrate the color by applying wax again.
After the wax dried, I applied another "Water Base Coat (Teak)" over the top. This water-based paint seems to penetrate even through the wax, and I can see the color getting a little darker.
I can't get it back if it gets too dark, so I'm going to keep the color at this level. Once again, I applied a light coat of "Old Wood Wax" to the entire surface and wiped it off.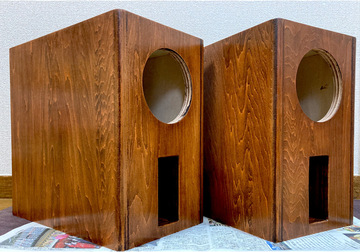 After drying, I brushed it with a horsehair brush to complete the wax glazing. I would like to wax it once a year or so for maintenance.
This completed the series of painting work on the loudspeaker box. I'm pretty pleased with myself that it turned out pretty good!
.t