"Octave-band Colored Noise" has been newly released now!
"Octave-band Colored Noise" is a new sound generator iPhone app that can generate various colored noises and octave-band noises.
This app is an ad-free upgraded version of "Colored Noise Generator".
It can be used for various purposes such as sound masking, sound effects for tinnitus relief and sleep, reference sound source for sound equipment measurement, sound tuning, and sound insulation effect measurement for buildings.
It generates six types of color noise signal, white noise, pink noise, brown noise, blue noise, purple noise, and gray noise.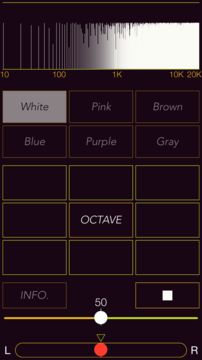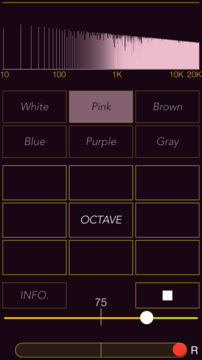 Furthermore, octave-band noise signals of various frequency bands can be generated by processing color noise signals with the 1/1 octave-band filter.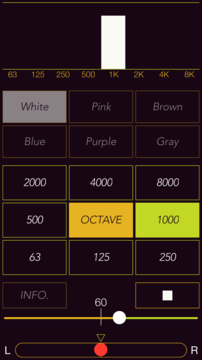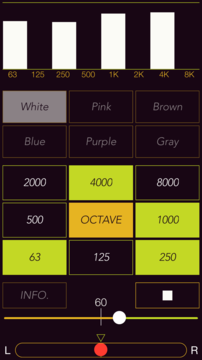 For example, octave-band noise can be applied as a sound masking source to alleviate annoying environmental noise in network meetings at the office or home work, or when you want to concentrate on your work. If you play back general white noise or pink noise, it feels rather annoying because the frequency components in its signal are very wide. By adjusting the frequency band to cover only the frequency components of the environmental noise, you can get a less annoying noise reduction effect.
As other applications, Octave band noise is also useful to adjust the characteristics of the audibility of earphones or headphones.
By selecting the pink noise and playing the 1/1 octave band noise in the order of 125Hz, 1KHz, 8kHz of the center frequency, you can determine the intensity of each frequency band on the audibility. If you know the characteristic of frequency band, you will be able to adjust the earphone in the equalizer to your favorite sound easily.
If you are interested in this app, please click the following link to display on the product information of App Store
TM
.