"ATG - Audio Tone Generator"
has been updated to ver 5.2 today.
"ATG - Audio Tone Generator" is powerful reference audio test signal generator for iPhone.
It creates the reference audio test signals as Sine-wave, Frequency Sweep, White Noise and Pink Noise, and has a high precision of CD quality and a frequency accuracy.
It will help you to make the sound benchmark for audio equipment, loudspeakers, your listening environment, room acoustics and hearing check.
The audio test signals can be best used in conjunction with external devices, such as audio spectrum analyzer or sound level meter.
It can also generate octave band noise of 1/1 or 1/3 octave in NOISE mode. You can use it for detailed analysis of specific frequency bands.
In the latest version, the left and right channel balance control function has been added.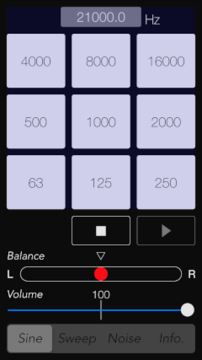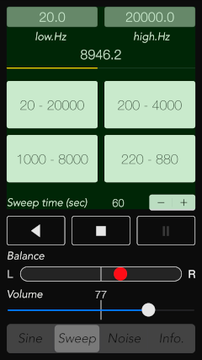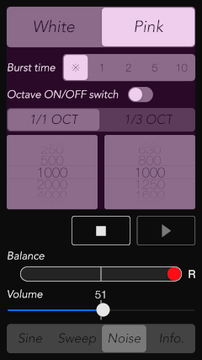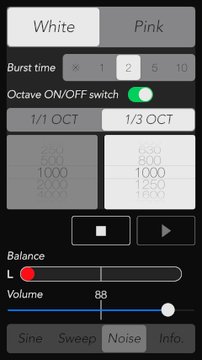 Applications:
- Testing for Loudspeakers and Headphones
- Burn-in for Audio equipment and Loudspeakers
- Testing and tuning for Audio amplifiers, Equalizers and many other Audio equipment.
- Acoustics testing
- Frequency response measurement for Audio systems using White noise and Pink noise
- Sound Masking
- Relaxation and Meditation
- Hearing Test
- Mosquito sound creation for teenagers
If you are interested in this app, please click the following link to display on the product information of App StoreTM.