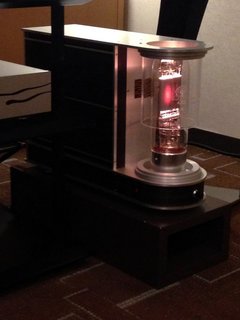 "CS Port", a new audio manufacturer demonstrated a huge vacuum tube monaural amplifier "212PA".
"212PA" was a Class A single 40 W non-feedback amplifier using "212E" triode vacuum tube developed in Western Electronic in the 1910's, so I was surprised by its smooth and clear sounds.
This tube "212E" is originally intended for wireless transmission, and is a huge triode vacuum tube with a size that is four times as large as 300B. It is actually being driven with a plate voltage of 1400V.
ynew article of diaryz